Home for an Hour featured in the May/June issue of Poets & Writers!
Over the months leading up to Saturday, February 15, 2014, collaborators Adam Moser, Sarah Martin, and Jacob Paul leveraged their social networks to find seven volunteer couples to spend an hour each in Moser's apartment for an art project. The couples were given an hour-long time slot and some simple rules:
"Make yourselves at home, help yourself to anything in the fridge or the cabinets; just please don't take anything or lose Adam his security deposit."
Martin, Paul, and Moser would set up a tailgating party for spectators across the street from Moser's building, grilling hotdogs and serving canned beer. Martin would take a portrait of each couple in the apartment at the beginning of the hour, and then again at its end. After having their exit portrait taken, the couple would come outside and exchange keys with the next couple.
Meanwhile, Martin would photograph the apartment to document what the last couple had changed. The couples would be left alone for the hour, unsurveilled. Downstairs, Paul would write an account of what the couple was doing in the apartment. This account, of course, would be imaginative; still, as an artifact of the hour, it would embody what little Paul gleaned of the couple during the key exchange, and from the energy of the day.
Paul would be allowed to edit the text afterwards for clarity and grammar, being sure to not change the order or composition of the account. Afterwards, Moser would compile the multiple artifacts into a book.
As it turned out, a rare snowstorm and cold front shut down Greensboro that week. Saturday was the first day folks could easily leave their houses, which made for a party atmosphere during the event.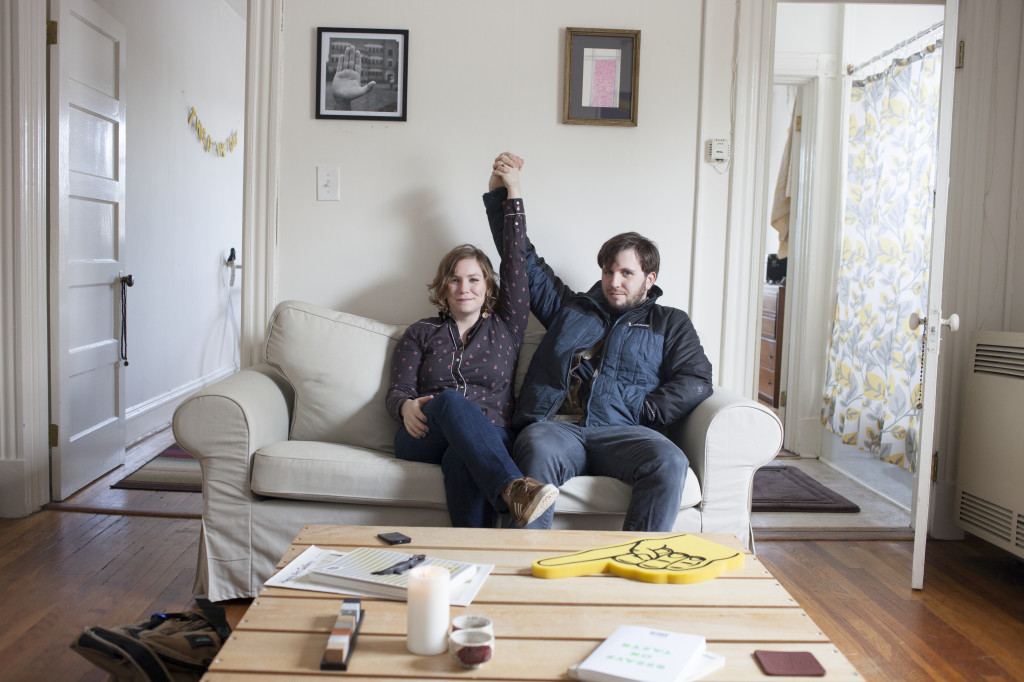 Toni & Robert
Toni and Robert walk up the stairs. The first flight, outdoors, concrete, is inordinately steep, as if the builders had repurposed plans from a different lot, one with a deeper setback, and then been forced to adjust the stairs' rise and rake to accommodate a too near sidewalk. There's no landing, and stepping backwards and down to open the apartment building's screen door is just awkward enough to make Toni laugh and Robert question why they're there at all. They've got band practice later. She'd sold him on this gig as an easy hour for a loose connection during which they can work out some music stuff, but it's the day after Valentine's Day, and not just any Valentine's day, but a FRIDAY Valentine's Day, a Friday, and also the first break in a record snow, the first moment of LEAVING THE HOUSE, and they'd drunk too much, and stumbled in the snow at closing getting home nearly after 2am, and they've woken too early to feel rested and too late to assemble their band gear, and so this is them, walking up the interior stairs, which are badly clad in green carpet that must have a pattern on it, but Lord knows that pattern is not what anyone would call visible right now.
They've been given a key to the apartment, which is at the top of the stairs, and which felt cool when Adam handed it over to them outside, but feels weird now, because the photographer, Sarah is with them, and obviously, she could have let them in, so the key is really only symbolic. Toni's cheer works on Robert though, that's the thing, his grumpy is turning to shy, and his shy excites Toni, because that means she's not wrong, though they don't have instruments, and they didn't need the key, and after all, it's morning and they've got some energy JUST RIGHT NOW, and they're getting their picture taken, which they're sports about, and then their picture is taken, and Sarah's pulled the door closed and it's just them.
Sarah closes the door and Robert asks Toni what time it is, which he immediately regrets, and so he doesn't propose that they fuck, which is what he wants to propose, even though he's not sure that's what he wants right now because it seems like it's the sort of thing one would propose. "Let's fuck in this stranger's house." Just like that; that's what one would propose. And then he thinks, maybe he should respond to whatever Toni says the time is by saying that it's about enough time for a quickie, even though it would be plenty of time for more than a quickie, because that would defuse what doesn't need defusing, but Toni says, "It's only an hour we have to be here, or only forty-five minutes really."
"They were running late too," he says.
"What would we do if we were home?" She asks.
"We are home."
"I love you."
"We'd probably be sleeping."
"That seems wrong, though, doesn't it?" She asks, "Like, they didn't ask us here to sleep."
"I think we can do whatever we want," Robert says. He feels lascivious, or rather, he feels like speaking lasciviously, but isn't actually horny. "We should look around."
They have been looking around; or rather, they've walked into the kitchen and then back into the living room and are now back in the bedroom. It's understood though that looking around means really looking, like, seeing, like you do at a museum, or snooping, which is what you do when you're not allowed to, when you're in a friend's bathroom and peek in a cabinet, or in the bedroom and open a wooden box, something that Toni and Robert actually never did in each other's houses when they first met, neither telling the other that they wouldn't snoop, just each making a choice, and each, now, proud of that choice, though they've not shared that they made it. But they have permission to snoop in this apartment. "Treat the house as your own," and so going through drawers IS like being in a museum, like Elsewhere, which is just around the corner on Elm, except without Elsewhere's must and dust and dirt.
They begin looking around together, but then split up, even though the apartment is small. "Hey come check this out," Robert calls from the bathroom.
Toni walks in and Robert points at a shade pulled down behind the toilet that's got written on it, "If this shade is down, I'm not who you think I am."
"No," she says, "this is who I am," handing over Adam's passport.
"Trusting," Robert says.
"He's barely been anywhere."
"He's been to France!"
"Like that's anywhere."
"He wants us to DO something."
"We don't have to DO anything."
"I feel like we do; we have to do something."
Robert pointed out that they only had maybe twenty minutes left. "Ugh," Toni said.
"Do you think we can see them?"
"I didn't even think about that."
They walk to the bedroom windows.
"Do you think they'll see us looking at them?"
"Oh don't be a baby," Robert says, but she's right, it feels wrong, like cheating, to look out, to spy on the three people down in the street.
"Let's take a shower," he says.
"A shower?"
"A shower," Robert says, suddenly really happy.
"A shower."
"Yes."
Toni thinks about it a second. They could fuck, they could. But that isn't what he is asking.
"Ok," she says. She hums a little and sways her hips and slowly lifts her shirt.
"Sexy," Robert says, "but no time."
"Fine," she says, pulling her shirt off with her bra, momentarily self-conscious about the pink line across her sternum from her bra's bottom elastic and the about the same-colored stripe across her hips from her panties, not fancy panties, but the ones she found beside the bed when they'd hurriedly dressed that morning, her faster than him, still hoping to assemble the instruments, and then her stuck waiting, frenetically waiting, while he gradually grumbled his way out of bed.
"I want to wash your hair," Robert says.
She blushes. In her frenetic waiting she'd put on makeup but not showered. They stand shivering, naked, the water running, waiting for the hot to come on hot, newly aware of how long it takes the hot to come on hot, how much time is wasted not just today, but every day, waiting for the water to come hot. Check the time, she urges.
"Do you remember if they're coming in at the hour, or five before?" she asks.
"Five before maybe?"
"I don't think we have time."
"The water's hot."
"It's ten to."
How long does a shower take? There's the real time a shower takes, and then there's the time you think it'll take, and then there's the time you tell yourself it will only take when you're running late to work but want to shower anyway, need to shower, the night still in your pores and your hair, and figure that if you're wrong you can always make up time in the car, dodging lights, besides which, it's like whatever if you are late, but now there is the question of whether Sarah was going to UNLOCK the door at the hour, or knock, or whether it was only five minutes. Robert is standing in the shower now, the water having run hot, but still through the tub's spout, water puddling around his feet, his arms crossed over his chest.
"We don't have time," she says again.
"Ok." He says, suddenly remarkably aware of his crotch, of his cock, bare, flaccid. He wants to cover himself, and he doesn't want to seem to cover himself and he doesn't want SHRINKAGE and he REALLY DOESN'T want to be erect.
He hastily pulls on his clothes, his feet still wet, and there isn't time to clean up after, though he's left water on the floor, wet footprints.
Like that they run to the couch, him hastily pulling on his socks, which is hard with feet damp, and which is uncomfortable over wet feet, and they sit on the couch and take a deep breath and wait.
And wait.
They hear footsteps on the stairs.
The footsteps pass them.
They hear footsteps and Toni runs into the kitchen.
"What are you doing?" Robert stage whispers.
I want to pretend to be cooking!" she says.
And the knock comes on the door, and Robert stands and opens it and Toni pretends to be cooking.