INTERVIEW ON VERMONT RADIO!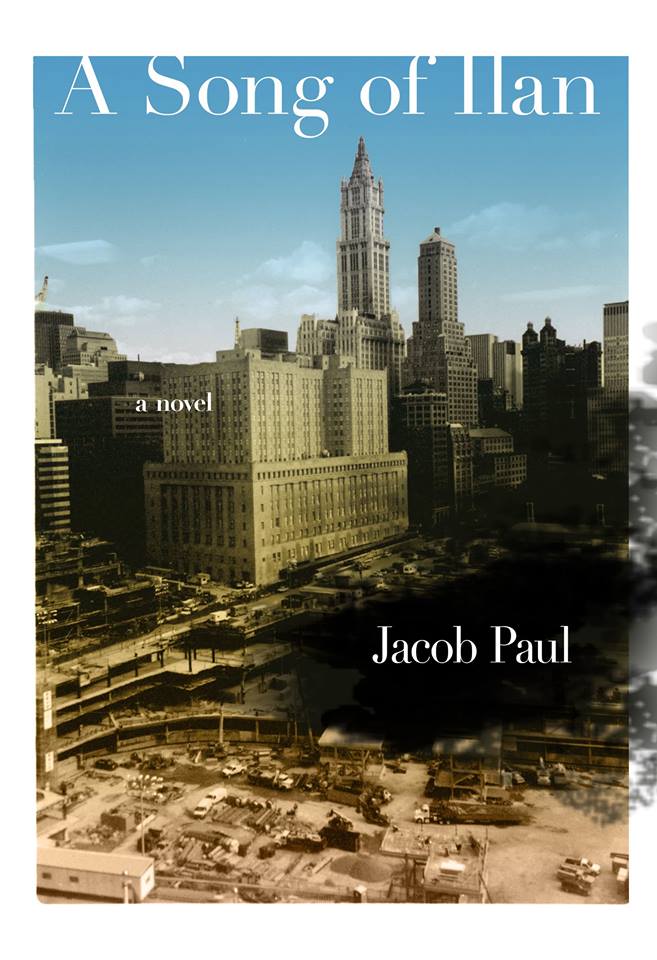 Buy the Van Goose CD, 
Dark Rather Than Tan

, at: CDBaby
Van Goose (Shlomi Lavie) has created a companion album, Dark Rather than Tan, to A Song of Ilan; and it's dope. Sample tracks on SoundCloud: "Lovesick" and "She's A Rock, She's A…" MUSIC VIDEO!!! on YouTube here.
If you wan the album, you can buy it here. 
And that super cool album art? That's one of the photos the remarkable photographer Sarah Martin took for what will be a color art edition of the novel. Click here for the rest…
In 2003, a year before I began writing A Song of Ilan, Oppenheimerfunds moved us back into permanent office space in the World Financial Center. Our new offices looked into the pit where our old offices in Tower Two had been. Later that year, in giddy receipt of yet another Russian rangefinder ordered off ebay, shipped from the Ukraine in a brown paper parcel bound with twine, tagged with a Cyrillic-inscribed customs tag, and judged overly surreptitious by the mailroom guy, I shot a roll of T-Max 100 out the window beside my cubicle.
As I was rebuilding my website (this website) in preparation for A Song of Ilan's release in March, I found this image from that roll and it bespoke the book somehow. In need of a provisional book cover, Debra Di Blasi, my publisher at Jaded Ibis Press, colorized the image and mocked this up. And now the book feels closer and more real.
And as the book's arrival comes into focus, I find myself with a new clarity about what it might mean to look out of one's new office into the remains of one's old office, destroyed by terrorists, and at once want that building rebuilt, and also want it never rebuilt, to want the world to pause and wait and hold still if not forever, at least indefinitely.
I see the cover, and I think about Ilan, who kills to save not only himself but those around him but cannot live with having killed, who is forced to choose between his wife and the god who, if only embraced, could authorize that killing, Ilan, who in the entanglement of that choice, neither yet one thing nor the other, meanders towards immolation; I think about how Ilan is only a character, a construction, my character, and I think that the inquiry that construction allowed me, an inquiry into the collision of violence and faith and text and identity and love, is what I want to say to the linking of the words 'bombing' and 'intractable conflict' and 'right to resistance/self-defense.' And I know that this need's increase is as unhappy a thing as the release of a new novel is a happy one.
"Paul's prose is skillful, almost ornate, and obsessed with the truth of the modern experience of religion. A Song of Ilan is a remarkable exploration of issues and experiences that are often discounted or outright ignored in American writing today."
~ Buffalo, NY's The Public read the full review
"Jacob Paul's
A Song of Ilan
is tour de force of structural experiment that leaves not a thread untied and moves from beginning to end with a mesmerizing if not say horrifying fatality. Ilan, once an Israeli soldier, shot a suicide bomber to death in a cafe; ten years later, alcoholic, spiritually paralyzed, he turns himself into a suicide bomber, haunting the New York subway system with explosives under his coat, the only truth he knows, the only way to God. A spectacular book, beautiful in its rhymes, daunting in its ethical interrogation."
~Douglas Glover, author of Elle and Savage Love
"A philosophic meditation on the interplay between religion, violence, and personal faith,
A Song of Ilan
is about what it means to live in a world after 9/11, and the wars in Iraq and Afghanistan, as seen through its protagonist, Ilan's, desire for God. Through Ilan we see how a direct relationship with God (or the hope for God), divorced from the structure of religious institutions, might take the form of romantic love, and in that relationship's crisis, take on the perils, obsessions, and violence of that love.
A Song of Ilan
is necessary reading, especially against the backdrop of recent conflict in Gaza, for anyone who wishes to understand the personal, spiritual, and political impact of religious terrorism, and of the violence that seeks to suppress it."
~ New York City Council Member Mark Levine, Chair of the City Council Jewish Caucus
"
A Song of Ilan
is a dizzying, rhapsodic, and thrilling book that challenges readers to think about how we live, love, and die. A breathless read that plunges us into a brilliant and tortured mind, A Song of Ilan will haunt your days and nights, your kitchen, your bedroom, as well as and your commute, making you wonder who your neighbor, your colleague, your lover really is. Equally elegant and compelling as Paul plumbs rock climbing and scripture, terror and survival,
A Song of Ilan
strives heroically toward, in Donald Barthelme's words, 'the as-yet unspeakable, the as-yet unspoken.'"
~Matthew Batt, author of Sugarhouse
"Standing on a small stone, Ilan flattens his palm against the cliff rising above the carriage road. Horizontal striations create roofs and ledges. From the smaller ledges, gnarled, bonsai cypresses sprout. Full trees rise out of the largest. Behind him, sitting on a low stone wall that separates the carriage road from a steep wooded hillside stretching down to the Hudson River's plains, his wife rifles through her pack, a rustling that harmonizes with that of fallen leaves caught in the wind. Once there was a before, he thinks. A before in which this cliff was made of gray rock that hewn to blocks could build the Wailing Wall. Once there was a before; and the words are abstract. He tilts his head as if to examine the eighty-foot climb above. The words are sad in the abstract. The concrete events — a shooting in Tel Aviv; an escape to New York City; leaving the derech, the path of righteousness — are, well, concrete. Wailing Wall, he thinks. As at that famous relic, tufts of vegetation fracture the cliff's conglomerate rock. I have a nostalgia for a period in which I had a nostalgia, he mouths. The pain he feels is not for the passion with which he once prayed at the last standing wall of the old temple in Jerusalem, but for the young man walking whole Manhattan neighborhoods in a summer evening, awkward in his new secularism. It's for his wonder at junk stores on Mulberry spiked with memories of the Old City's Shuk, as if lower Manhattan's streets were equal exchange for stone alleyways two millennium old, a few stores selling knockoff watches and cheap baseball hats as colorful as a place where bins of fish heads divided crates of fresh eggs from street cobblers."